Types of U.S. Universities and Colleges
There are many types of colleges and universities in the United States and several different ways in which Americans identify them.
Classification can be based on whether a school is financially supported by a state or not, the history of a school, how and when it was first established, or how the school primarily functions now.
International students – coming from quite different educational systems – may be unfamiliar with the ways schools are sometimes classified in America, so here's some more information.
Public Universities
These are state-affiliated institutions that are publically supported (financed by public taxes), and they're usually large in size. They normally offer all levels of degrees and many different fields of study.
Public colleges and universities are relatively inexpensive for residents of the state where the schools are located (since they're funded in large part by state tax revenues). Foreign students should also pay "out-of-state" tuition, which is higher, often significantly so.
International students may find it hard to gain admission to these schools at the undergraduate level because preference is often given to state residents. This is especially true in the fields of engineering, business, and computer science. 
Examples of Public Schools in the U.S.
Here are just a few examples:
Pennsylvania State University
Ohio State University
University of California
University of North Carolina
University of Texas
Many state university systems have a number of different campuses situated all around the state. Sometimes one campus will be the preeminent one in terms of research and graduate study – this school is sometimes referred to as the "flagship" campus of the system. There are many notable public universities across the country.
Small Liberal Arts Colleges
There are numerous small liberal arts colleges throughout the United States, enrolling anywhere from fewer than 1,000 students to several thousand. They are usually dedicated primarily to the undergraduate study of the traditional arts and sciences subjects: Humanities, Sciences, and social sciences.
In most cases, liberal arts colleges are quite old (by U.S. standards, anyway!) and are usually private schools (meaning they're supported by tuition fees, private donations, and grants). Many of these colleges were traditionally single-sex (all-men or all-women), but that's only true these days in a handful of cases, usually exclusively women's colleges.
Sometimes these schools were founded with a religious affiliation, but the overwhelming majority of them don't take this into account anymore in terms of admissions or day-to-day student life.
Examples of Liberal Arts Schools
Among these schools are:
Amherst
Williams
Swarthmore
Bowdoin
Smith
Mount Holyoke
Vassar
Bryn Mawr
Oberlin
Grinnell
Pomona College
These colleges are usually highly rated institutions because they stress small classes, individual attention for their students, and a close relationship between the faculty and students. Many of them also generally have stringent admissions standards.
The Ivy League
Although these schools are among the oldest and most famous in the country, the Ivy League itself was not officially formed until the 1950s – as an athletic conference!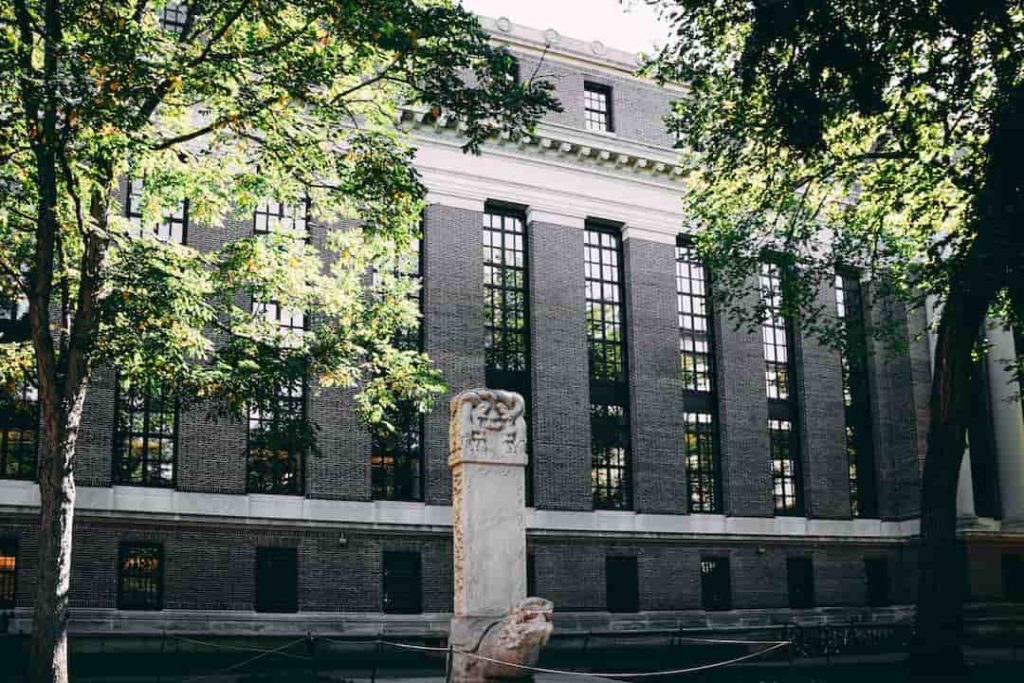 List of Ivy League Members
Members of the Ivy League, all of which reside in the northeastern United States, are:
Harvard
Yale
Princeton
Brown
Dartmouth
Cornell
Columbia
University of Pennsylvania (a private college not to be confused with Penn State University)
It is known that Ivy League colleges stress undergraduate liberal arts education. Still, they also have noted grad and professional schools. Tuition at these private schools is among the highest in the country, and the process of admission is generally highly competitive.
Generally, there are a significant number of international students attending these colleges, since these colleges are well-known internationally – and also because the schools actively seek a diverse student body.
Sometimes you'll find the term "Ivy League" also applied, somewhat inaccurately, to any top-notch private liberal arts college. And despite the cachet of the term "Ivy League," there are many other colleges and universities, both private and public, that are just as highly rated and as difficult to get into, Stanford is just one example.
Denominational or Religiously Affiliated Schools
There are a large number of colleges and universities that were formed by religious groups and organizations in the United States.
Examples of Religiously Affiliated Schools
Among well-known schools in this category are:
Notre Dame, Georgetown (Catholic)
Brandeis, Yeshiva (Jewish)
Brigham Young (Mormon)
Southern Methodist University (Methodist)
Earlham (Quaker)
Although they are not limited in admission to members of that religious group, they are administered by members of their religious faction and are often run in line with their religious precepts. 
Technical Institutes
These are schools specializing primarily in engineering and science and are particularly noted for their research and graduate programs. Most of the international students who attend these schools are admitted at the graduate degree level.
Examples of Technical Schools
Noted schools include:
MIT (the Massachusetts Institute of Technology)
Cal Poly (California Polytechnic Institute)
Georgia Tech (Georgia Institute of Technology)
WPI (Worcester Polytechnic Institute)
Rensselaer Polytechnic Institute
The undergraduate colleges of these schools also offer a variety of liberal arts courses as well as their technical subjects. Undergraduates admitted to these schools usually have especially strong backgrounds in mathematics and sciences, as witnessed by their grades and standardized test scores (e.g., SAT or GRE).
Community Colleges
Community colleges, which are also known as junior colleges, are two-year institutions that also offer a variety of educational paths for both local and international students. 
They provide vocational and technical training programs and associate degrees, which can be used for job arrangement or as a stepping stone toward a four-year bachelor's degree at a dream university.
In most cases, community colleges are more affordable than four-year institutions, making them an attractive option for many scholars, including international ones.
Examples of Community Colleges
Below, you will find some examples of community colleges across the United States:
Santa Monica College (California)
Pasadena City College (California)
De Anza College (California)
City College of San Francisco (California)
Kingsborough Community College (New York)
Northern Virginia Community College (Virginia)
Houston Community College (Texas)
Miami Dade College (Florida)
Seattle Central College (Washington)
Portland Community College (Oregon)
These colleges are known for their flexibility, offering part-time and, of course, evening classes to accommodate working students or those with family obligations. They also tend to have smaller class sizes, allowing for more individualized instructor engagement. 
Community colleges are widespread across the United States, and while they may not carry the prestige of some larger institutions, they play a crucial role in the American education system by providing accessible, quality education to a broad demographic.
This is the reason why more and more students select this option within all the other academic institutions in the U.S.
Wrap Up
The American higher education landscape is incredibly diverse, offering a range of institutions from large public universities, small liberal arts colleges, prestigious Ivy League schools, technical institutes, religiously affiliated schools, to accessible community colleges.
Each type of institution provides unique opportunities and advantages while also having specifics that students and their families should consider.
Understanding these can help international students make informed decisions that align with their academic goals, financial situation, and personal preferences. The right fit is not about prestige or classification but about finding an institution where one can thrive academically, socially, and personally. 
The process of selecting and applying to U.S. colleges and universities may seem complicated, but with the correct information and recommendation, it can be a rewarding experience that opens the door to a wealth of opportunities and lifelong learning.
We hope our short read written by Best College Admission Consultants editorial team will help you top make the right decision.
If you need assistance with your college application, make sure to check a list of our reviews of different admission consultants. We also have a list of free tools and resources that will be useful during the admission process. Check them, and good luck with your application 😉