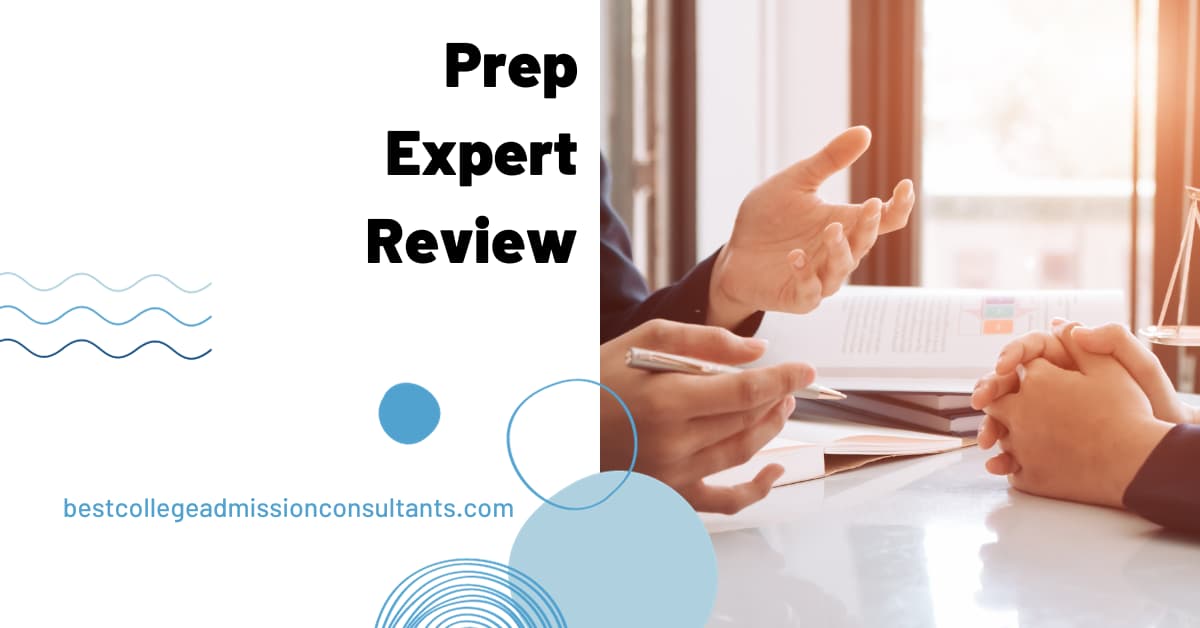 Our recommendations are handpicked. Should you buy using our links, we might receive a commission. Learn more here. All opinions expressed by contributors are solely their own.
Having spent a considerable amount of time in the field of college admission consulting, I've faced numerous services that promise to ease the often stressful process of college admissions for students and their families. One such service that caught my eye is Prep Expert, and today, I'm writing this review for you.
I hope my PrepExpert.com review will help some of you to make a final decision.
Here's my take on their college admission consulting services, broken down into several aspects to provide a clear picture of their main offers.
What Are Their Main Services?
Prep Expert is known for its range of educational services, with a spotlight on admissions consulting. They offer personalized suggestions to students, helping them polish their applications and make informed decisions throughout college admissions.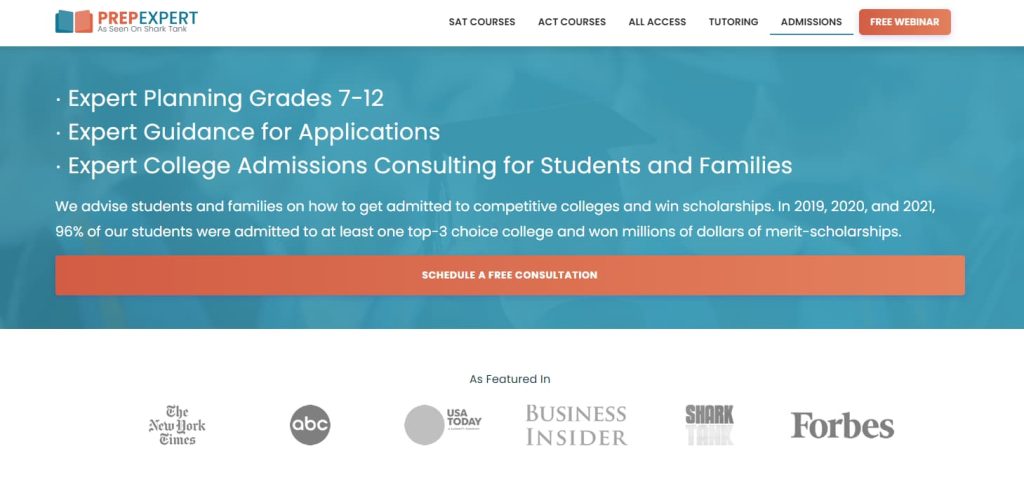 Their services span from high school course planning all the way to graduate school admissions consulting.
Here's a breakdown of the services offered by PrepExpert:
Admissions Consulting ✅
Personalized guidance throughout the college admissions process.
Assistance with high school course and extracurricular planning.
College list development to align with student's goals and preferences.
Application strategy formulation to enhance the chances of acceptance.
Essay brainstorming and review to ensure compelling and error-free submissions.
Interview preparation to build confidence and improve communication skills.
Test Preparation ✅
Comprehensive prep courses for SAT, ACT, and other standardized tests.
Practice tests and quizzes to gauge progress and identify areas for improvement.
Strategies and tips for tackling different sections of the exams.
Access to experienced instructors for guidance and clarification.
Academic Tutoring ✅
One-on-one tutoring sessions in a variety of subjects.
Tailored lesson plans to meet individual learning needs and goals.
Regular feedback and progress tracking to ensure continuous improvement.
Graduate School Admissions Consulting ✅
Guidance on selecting the right programs and schools.
Assistance with application materials, including essays, resumes, and letters of recommendation.
Interview preparation for graduate program admissions.
Strategy development to enhance the competitiveness of the application.
Merit Scholarship Assistance ✅
Identification of scholarship opportunities based on the student's profile.
Assistance with scholarship application materials to maximize chances of award.
Strategies for effectively communicating achievements and aspirations in scholarship essays.
Online Learning Platforms ✅
Access to a range of online resources and materials for self-paced learning.
Interactive online classes led by experienced instructors.
A platform for students to interact, ask questions, and receive feedback.
Each of these services is designed to provide a well-rounded support system for students at various stages of their educational path, ensuring they are well-prepared and well-guided every step of the way.
In this Prep Expert review, I will focus on admission consulting services, so do not expect me to explain how good they are in their ACT or SAT courses/tutoring. I bet you can find dozen Akbar Rahel reviews that focus on this aspect online. 
Transitioning from the broad range of services to what's specifically included in their packages, let's look at the details that make PrepExpert stand out from the niche competitors.
What's Included in Those Packages?
The admissions consulting packages at PrepExpert.com are designed to cater to individual needs.
They cover a variety of services, including:
high school course and extracurricular planning;
college list development;
application strategy;
essay brainstorming and review;
and interview preparation.
The purpose is to provide a well-rounded approach to the admissions process, assuring every aspect of a student's application is refined.
Now, moving on from the services to the people who deliver them, let's talk about the team at Prep Expert.
Their Team
Akbar Rahel leads the admissions consulting service, a seasoned professional with a rich background in education and law. I believe it's quite a good combination for a college advisor.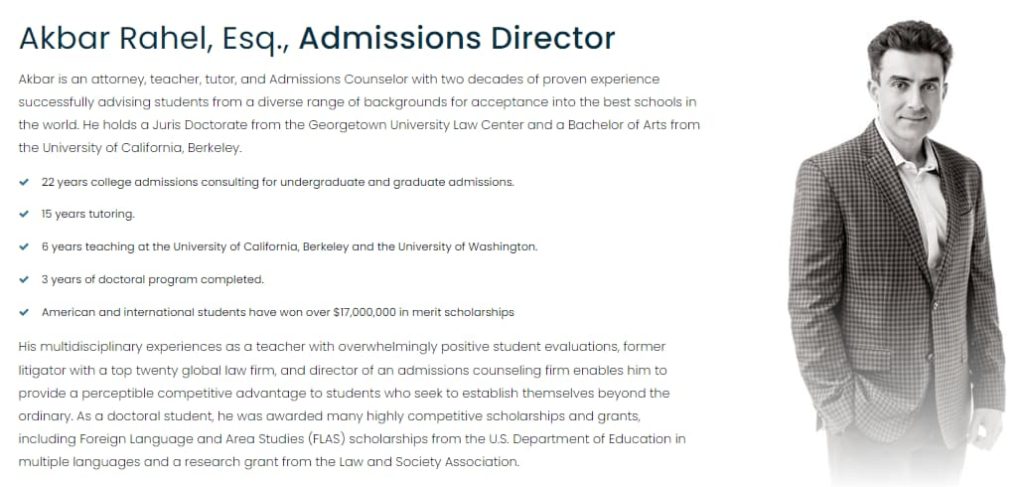 His extensive experience and a dedicated team ensure that students receive insightful guidance with their college admissions process. The expertise of Akbar and his team adds a layer of trust and effectiveness to the consulting process.
Before we discuss the pricing, it's worth mentioning the additional services Prep Expert offers.
Do They Offer Any Extra Services?
As I have partially highlighted in one of the previous paragraphs, except of admissions consulting, PrepExpert also provides test preparation courses and academic tutoring for their clients.
These services are crafted to support students' academic initiatives, complementing the admissions consulting services and providing a comprehensive preparation experience.
Now, let's move on to engaging with Prep Expert financially.
Their Pricing and Guarantees
The pricing tiers at PrepExpert are structured to accommodate different budgets, making professional guidance accessible to a broader audience. While it's an investment, the potential returns regarding college acceptances and merit scholarships are notable, as shared in success stories on their platform.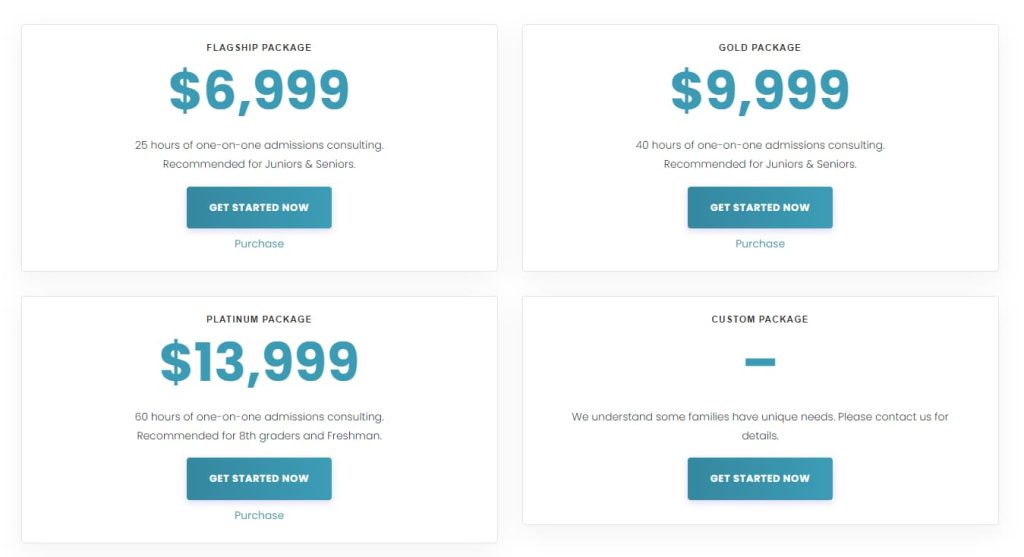 Prep Expert has structured their pricing in a way that caters to various needs and stages of the college admissions process.
They offer several packages for admissions consulting:
Flagship Package – 💲6,999
This package includes 25 hours of one-on-one admissions consulting, making it a suitable choice for Juniors & Seniors who are in the crucial stages of their college application process.
Gold Package 💲9,999
With 40 hours of one-on-one admissions consulting, this package offers a more extensive engagement, also recommended for Juniors & Seniors, possibly catering to those with a broader range of colleges in mind or needing more intensive assistance.
Platinum Package 💲13,999
This package provides a whopping 60 hours of one-on-one admissions consulting and is recommended for 8th graders and Freshmen. It's designed for students looking to get a head start on their college admissions.
Custom Package
Understanding that every family may have unique needs, PrepExpert offers a Custom Package. Interested parties are encouraged to contact them for more details regarding this personalized offering.
The pricing clearly shows a tiered structure, allowing families to choose a package that aligns with their needs and financial capacity. While it's an investment, the detailed and personalized advice provided in these packages could significantly enhance a student's prospects of gaining admission to desired colleges, potentially opening doors to a bright academic and professional future.
Comparing the pricing of Prep Expert's admissions consulting packages with other services in the market, some families might find the entry price on the higher side. However, it's crucial to consider the value delivered.
Numerous positive reviews praising Akbar Rahel available online show a consistent pattern – PrepExpert delivers what they promise. The personalized attention, the seasoned admissions consultants, and the proven success in securing college admissions and merit scholarships speak volumes about the quality and effectiveness of their services. 
For those who have the means to invest, engaging with Prep Expert could be a well-considered decision that significantly brightens the college admissions outlook for the student. This investment could be a solid foundation for a rewarding academic experience and beyond.
Online reviews are a window into the professionalism of PrepExpert. Let's see what they reveal.
Their Professionalism in Terms of Reviews Available Online
The digital realm is abuzz with commendations for Prep Expert. A notable mention is their high rating on Trustpilot, a platform known for its authentic reviews. The positive feedback doesn't stop there; it extends across various review platforms where students and parents alike express their satisfaction with the services provided.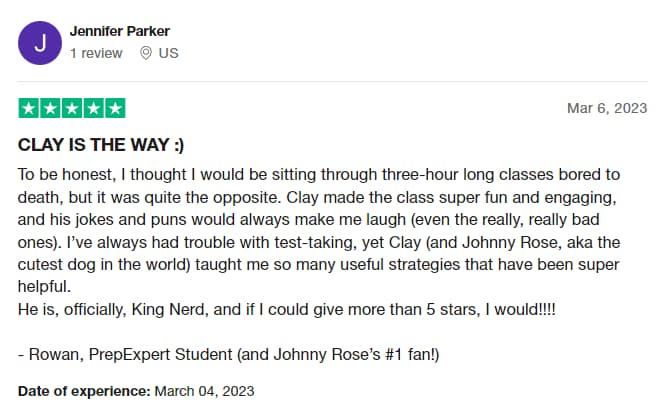 The recurring themes in these reviews are the professionalism exhibited by Prep Expert's team and the tangible results in the form of college acceptances and merit scholarships. The transparency and security highlighted in these reviews further accentuate the trustworthiness and reliability of PrepExpert.
I have found some negative reviews from tutors who were working remotely, but they have nothing to deal with the quality of services that are under my primary focus.
Yet, like any other service, there are areas where Prep Expert could enhance their offerings. Let's shed light on some of those areas.
Grey Areas of PrepExpert.com (Their 3 Bad Sides)
The main concern with Prep Expert is their complaint resolution process. According to some reviews, it may take weeks to get resolved, which seems to need some improvement. 
Additionally, the platform interface for tutors could be enhanced for a better user experience.
Lastly, the stringent hiring requirements, while ensuring quality, may limit the diversity of their tutoring staff.
Now, wrapping up with a final take on Akbar Rahel and his company Prep Expert.
Final Verdict of Prep Expert review
I CAN recommend the admission services of the Prep Expert team when you need assistance with your college admissions.
Prep Expert stands as a supportive companion for those facing the challenging path of college admissions. Their comprehensive services, experienced team, and additional test prep and tutoring support make them a solid choice for anyone seeking guidance through the admissions process.
The minor drawbacks don't significantly overshadow the immense value and support that PrepExpert offers, making them a commendable choice in the college admissions consulting arena.
Out TOP Suggestions
| Best College Admission Consulting Firms | | | |
| --- | --- | --- | --- |
| Consultant | Admissionado | BeMo Consulting | Admit Advantage |
| Price Range | $1,650-$9,880 | $3,397-$11,397 | $5,999-$14,999 |
| Admissions Feature | Colleges | Med schools | Law schools |
| Rating | 4,8 | 4.5 | 4.2 |
| More info | Visit | Visit | Visit |

When going through the tricky and sometimes nerve-wracking college admissions process, it's important to pick a consulting service that knows what they're doing and is open, flexible, and really cares about making their clients happy.
FAQ
How much does Prep Expert admissions consulting cost?
Prep Expert offers a variety of admissions consulting packages. The Flagship Package is priced at $6,999 for 25 hours of one-on-one consulting, the Gold Package is priced at $9,999 for 40 hours of consulting, and the Platinum Package is priced at $13,999 for 60 hours of consulting. They also offer a Custom Package for which you would need to contact them directly for pricing.
Is Prep Expert a reputable company?
Yes, Prep Expert has established a good reputation in the college admissions consulting industry. They have received numerous positive reviews across various platforms including Trustpilot. Their admissions consulting service is led by an experienced Admissions Director, Akbar Rahel, who has a long track record of success in helping students gain admission to prestigious universities and win merit scholarships.
Can PrepExpert.com guarantee acceptance?
Like other consulting services, Prep Expert cannot guarantee acceptance into a specific college or university as admissions decisions are made by the institutions themselves based on a variety of factors. However, they do provide personalized guidance and strategies to enhance a student's application and improve their chances of acceptance.
Is Prep Expert admissions consulting worth it?
The value of Prep Expert's admissions consulting services can vary depending on individual circumstances and needs. Many clients have reported positive experiences and successful outcomes, as seen in online reviews. The investment in their services could potentially yield significant returns in the form of college acceptances and merit scholarships, making it a worthy consideration for those seeking professional guidance through the admissions process.