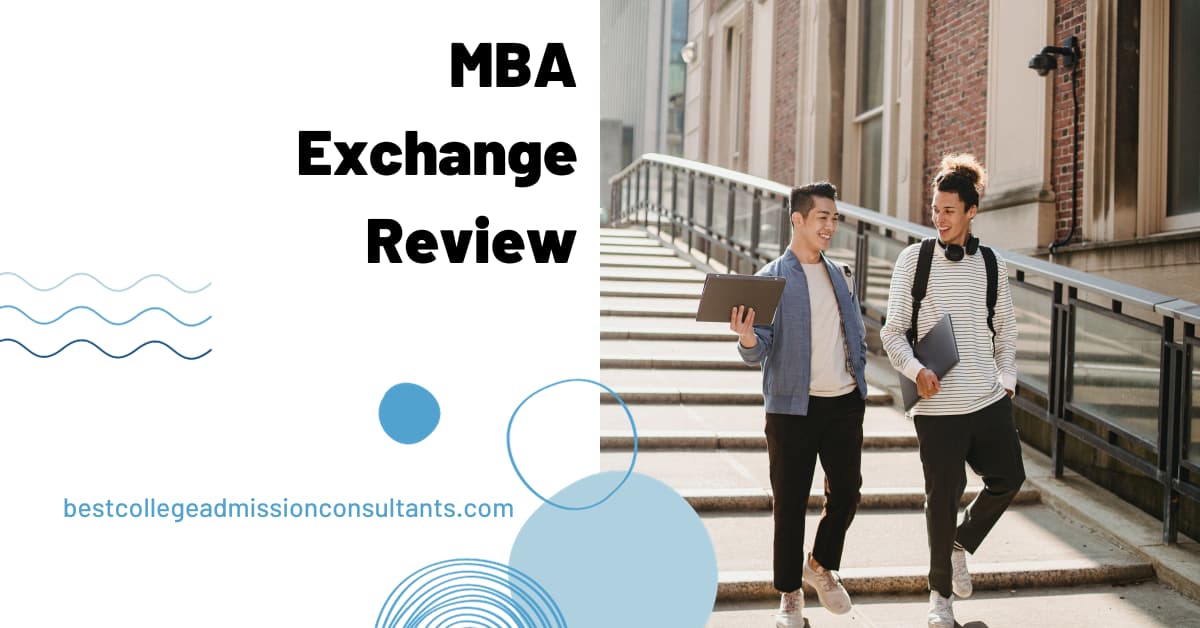 Our recommendations are handpicked. Should you buy using our links, we might receive a commission. Learn more here. All opinions expressed by contributors are solely their own.
Hey there! If you're considering The MBA Exchange for your MBA application process, here's my take a.k.a review of their services.
Starting off, let's look at the good and not-so-good aspects.
Short Read
| PROS | CONS |
| --- | --- |
| They've been around for a while and know their stuff. | They're on the expensive side. |
| Their team is diverse and knows the ins and outs of the MBA world. | They're picky about who they work with. |
| They offer a bunch of unique services. | They don't promise any guarantees. |
Now you know what makes them different from other admission consultants available on the market. Let me move forward with the detailed review.
So, what exactly does MBA Exchange has to offer?
What Are The Main College Admission Consulting Services of MBA Exchange?
The MBAExchange has a structured approach to admissions consulting.
They focus on helping you present your best self, ensuring your application is spot-on, and helping you craft a compelling story.
Alright, let's get into the details.
What's in the Package?
Generally, you can expect things like profile reviews, essay edits, interview preps, and even waitlist support. They also have some specialized prep for certain schools and cool services like video essay coaching.
When you sign up with the MBA Exchange, here's a breakdown of what they typically offer:
Profile Reviews
They'll take a close look at your entire profile. This means reviewing your academic records, work experience, extracurriculars, and other relevant details. They'll give you feedback on where you stand and how you can improve.
Essay Edits
Essays are a big deal in MBA applications. The MBA Exchange will help you refine your essays. They'll check for clarity, coherence, and make sure your unique voice shines through. They won't write it for you, but they'll guide you in making it the best it can be.
Interview Preps
Interviews can be nerve-wracking. Their team will help you prepare by conducting mock interviews, giving you feedback, and offering tips on handling tricky questions.
Waitlist Support
It's not the end of the road if you find yourself on a waitlist. MBAExchange.com offers guidance on improving your chances of moving from the waitlist to an acceptance.
Specialized School Prep
If you're targeting specific schools, they have tailored strategies and insights to increase your chances of getting in.
Video Essay Coaching
With some schools asking for video essays, this is a neat feature. They'll guide you on content, presentation, and even technical aspects to ensure your video essay stands out.
To sum up, MBA Exchange offers a comprehensive package that covers almost every aspect of the MBA application process.
Now, as a continuation of my MBA Exchange review, let's see who's behind all this.
Their Team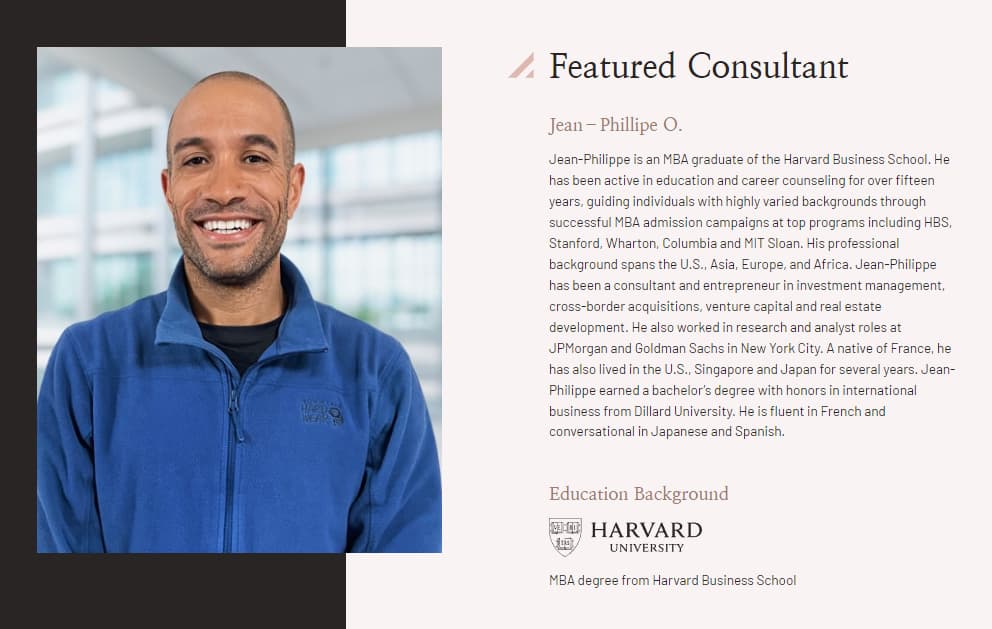 The MBA Exchange has a mix of former admissions officers and successful MBA grads from top schools. They're trained regularly and come from different backgrounds, giving them a unique view of each custom admission case.
Any extra offers from MBAExchange?
Do They Offer Any Extra or Free Services?
Yep! They offer a free evaluation for potential clients. It's an excellent way to see if they fit you well.
I might have missed some other free offers and services; let me know by contacting our team and we'll surely update this part.
Now, let's talk money.
Pricing and Guarantees
Like in terms of Admit Advantage, the MBA Exchange isn't cheap. Their thorough consultation can start at prices like $3,650 for one school. And while they're in high demand, they don't offer refunds or guarantees.
One thing that stands out about MBAExchange.com is its transparent pricing. In an industry where many keep their cards close to their chest when it comes to costs, The MBA Exchange is refreshingly open.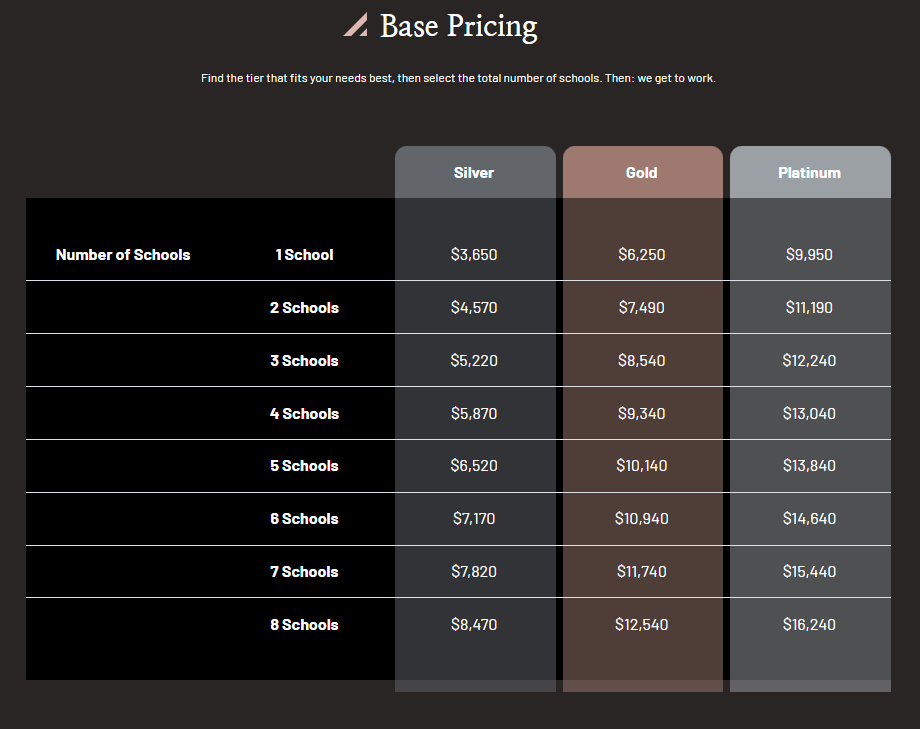 They offer "A La Carte Services & Add-Ons," meaning you can choose what you need. This approach allows you to control your budget and buy services at your own pace and on your own terms. They have various options, so you can tailor your package to your needs and financial situation.
This clear-cut approach to pricing is quite rare in the business, I guess I only saw this from Admissioanado college consultants, and I truly believe that it is a testament to their client-first approach.
What's the word on the street?
Their Overal Reputation in Terms of MBA Exchange Reviews Online
The MBA Exchange has a solid reputation online. Most reviews are positive, with clients often sharing their success stories. One standout review mentions a client getting into top schools like Booth, Kellogg, and Wharton. That's impressive!
I also chatted with a family who was thrilled because their son got into the Haas School of Business, all thanks to MBAExchange. It's clear from these stories that clients value the guidance and expertise The MBAExchange.com provides.
The general online sentiment? They're good at what they do.
No one's perfect, right?
Grey Areas of MBA Exchange
Every service has its strengths and areas where there's room for improvement.
While The MBA Exchange has garnered a lot of praise, there are certain aspects that some clients felt could be better.
They're pricey, which might be out of reach for some.
Their no-refund policy can be a bummer.
Some folks found them a bit too formal or business-like.
It's essential to weigh the pros and cons when considering any service. The MBAExchange has its standout features, but it's also important to be aware of the potential downsides.
My Verdict
Yep, this is the end and final verdict for my MBA Exchange review. The MBA Exchange knows what they're doing, and they've helped many people. I recommend their MBA admission services.
But they come with a price tag. They're worth a look if you've got the budget and you're serious about your MBA application.
Just make sure they're the right fit for you.
You may also be interested in our TOP picks for college admission consulting services:
| Best College Admission Consulting Firms | | | |
| --- | --- | --- | --- |
| Consultant | Admissionado | BeMo Consulting | Admit Advantage |
| Price Range | $1,650-$9,880 | $3,397-$11,397 | $5,999-$14,999 |
| Admissions Feature | Colleges | Med schools | Law schools |
| Rating | 4,8 | 4.5 | 4.2 |
| More info | Visit | Visit | Visit |
FAQs
How much does MBA Exchange cost?
The MBA Exchange's pricing starts from $3,650 for a basic package and can go up to $16,240 for a platinum package.
Is MBA Exchange a reputable company?
Yes, The MBA Exchange has a solid reputation online with many positive reviews and client success stories.
Can MBAExchange.com guarantee acceptance?
No, The MBA Exchange doesn't offer guarantees for acceptance into any institution.
Does MBA Exchange worth it?
Many clients find value in their services, especially given their expertise and success stories. However, it's essential to assess if their offerings align with your needs and budget.