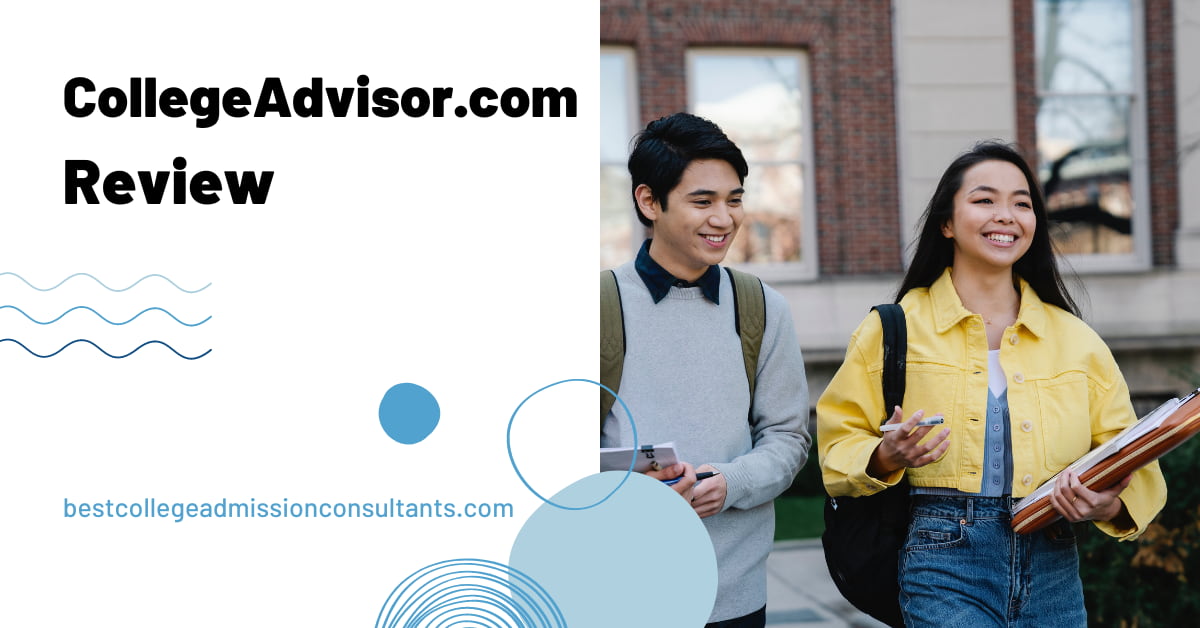 Our recommendations are handpicked. Should you buy using our links, we might receive a commission. Learn more here. All opinions expressed by contributors are solely their own.
Understanding the college admissions process can be daunting, so having expert advice can be invaluable. In this review, I will take you through an in-depth analysis of CollegeAdvisor.com, a platform that promises to ease this process. Ready for College Advisor review?
We'll examine their services, team, counseling process, and costs and also touch upon some of the grey areas. Lastly, I will offer a final verdict. So, let's go!
What Is CollegeAdvisor.com?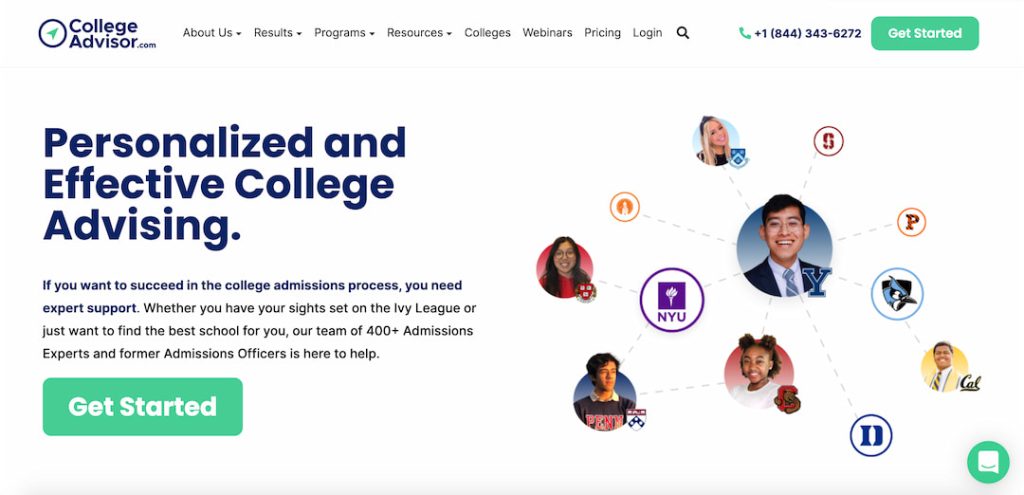 CollegeAdvisor.com is an online platform that aims to assist students in making informed and strategic decisions regarding college admissions.
By offering personalized counseling and many resources, it seeks to enable students to put their best foot forward in securing admission to colleges that align with their aspirations and goals. Sounds interesting.
What Are Their Main Services?
Let's delve into the most intriguing part for aspiring college students and their parents – the services offered by CollegeAdvisor.com.
One-on-One Video Chats with Admissions Experts
At the core of CollegeAdvisor.com's services is the opportunity for students to engage in one-on-one video chats with members of their Admissions Experts network.
This personalized interaction allows students to ask questions, discuss concerns, and receive tailored advice. For sure, it's a great way to get real-time feedback and insights.
Monthly Workshops and Webinars
In addition to individual consultations, CollegeAdvisor.com states that it offers monthly workshops and webinars. What's fascinating about these webinars is that no two are the same. Each webinar tackles a different aspect of the admissions cycle and is presented by experts in various subjects.
These experts can range from students who have recently undergone the admissions process to former admissions officers and other professionals in education. 
The workshops and webinars can be invaluable for students seeking information on a variety of topics, such as merit-based scholarships, different types of admissions, crafting compelling letters of recommendation, opportunities for virtual volunteering, and more.
I tried to find some more information in this regard, but there is a lack of reviews of College Advisor especially regarding their workshops.
In-Depth Guides and Resources
CollegeAdvisor.com goes the extra mile by providing students with comprehensive guides to support their college application process. Notably, they offer an in-depth financial aid guide, which can be a game-changer for students looking to understand and navigate the often complex world of college financing.
Are there any guarantees? Nah!
CollegeAdvisor Team

When evaluating the CollegeAdvisor.com team, it is notable that the agency has made impressive strides in a short span of time, just two and a half years. This can be attributed, in part, to the team, which includes former admissions officers like Pam Walton and Lauren Lynch, among others, lending an insider's perspective on the admissions process.
However, it's necessary to consider that a portion of the team comprises recently graduated individuals. While these recent graduates bring enthusiasm and a fresh perspective to the table, their relative lack of experience in specific topics may not be able to offer the profoundly nuanced or unique insights that come with years of experience in the field.
Therefore, while evaluating CollegeAdvisor.com, it is essential to consider both the strength of having former admissions officers on the team and the limitations of having relatively inexperienced recent graduates as part of the counseling staff.
Depending on the kind of guidance a student seeks, this mix could be a boon or a limitation.
Free Services
I've found that they offer free ACT or SAT courses for their clients, which can be a valuable addition for some of their customers.
Counseling Process
Like with other college admission consultants, the counseling process at CollegeAdvisor.com is personalized. It generally begins with an initial consultation where the student's goals and needs are assessed. This is followed by developing a customized plan that outlines strategies and milestones. Subsequent one-on-one sessions are focused on executing this plan, with continuous feedback and support.
Still, according to some reviews that can be found online, College Advisors have some issues with communication, and sometimes they may delay response for days.
Maybe they prepare each answer inside their office after careful investigation, but who knows?
How Much Does College Advisor Cost?

I reached out to CollegeAdvisor.com to understand how they could support the dream of my "kid" who wants to be in admitted in the TOP 100. They provided me with detailed information on their packages, but the next day. 
Nevertheless, here's a brief breakdown and comparison of the packages they shared:
Premium Package
Price: $1,000
Features: 10 hours of 1-on-1 video chat, a personal admissions coach, offline essay edits for 2 applications, and unlimited access to webinars.
Elite Package
Price: Not specified, but higher than Premium
Features: Over 20 hours of 1-on-1 video chat, personal admissions coach, access to a network of students and alumni, and offline essay edits for 6 applications.
Platinum Package
Price: Not specified, but higher than Elite
Features: Over 30 hours of 1-on-1 video chat, an admissions coach and former college admissions officer, ACT/SAT test prep partnership, and offline essay edits for 9 applications.
Ivy Plus Package
Price: $9,000
Features: Over 40 hours of 1-on-1 video chat, an admissions coach and former college admissions officer, ACT/SAT test prep partnership, and offline essay edits for 12 applications.
I should say that those prices are quite high compared to most companies offering similar services.
As a parent, it's vital to weigh the features against the investment required. For "my kid", I would consider the specific needs and how these packages can provide value before deciding.
It's crucial to ensure that the chosen package aligns with the academic goals and aspirations we have in mind.
Alternatives to College Advisor
| Best College Admission Consulting Firms | | | |
| --- | --- | --- | --- |
| Consultant | Admissionado | BeMo Consulting | Admit Advantage |
| Price Range | $1,650-$9,880 | $3,397-$11,397 | $5,999-$14,999 |
| Admissions Feature | Colleges | Med schools | Law schools |
| Rating | 4,8 | 4.5 | 4.2 |
| More info | Visit | Visit | Visit |
Grey Areas of CollegeAdvisor.com
Now comes an interesting part. While there are many positives, there are some grey areas to be aware of:
Late Arrival Fees! There is a fee for late arrivals to sessions, and this could add up.
Non-Refundable! Once a purchase is made, it is non-refundable.
Customer Support Availability! Their customer support is unavailable throughout the day, which can be inconvenient.
Variable Counselor Experience! The experience level of counselors can vary, and not all of them may have extensive experience.
Numerous Bad Reviews! Moreover, most of those College Advisor reviews seem reliable and legit.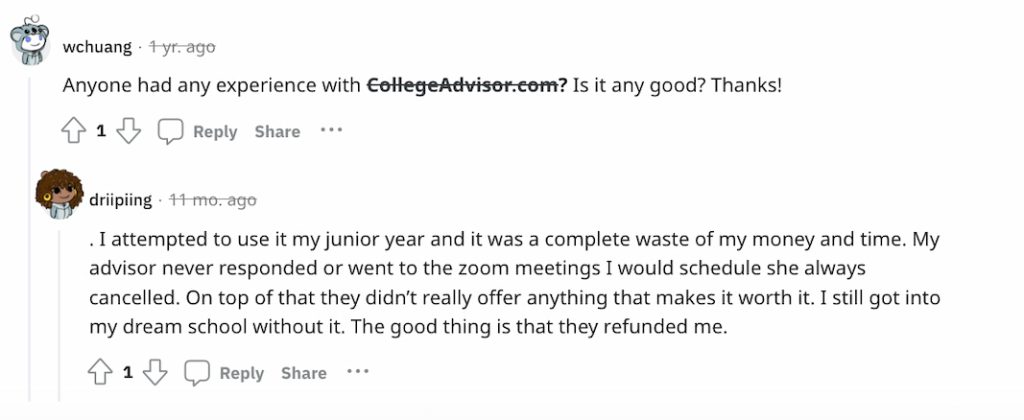 My Verdict = Proceed with Huge Caution
Let's conclude my CollegeAdvisor.com Review. Considering the range of services offered by CollegeAdvisor.com, along with the composition of their team, it's time for a final verdict.
While CollegeAdvisor.com does offer an array of services, such as one-on-one video chats, workshops, webinars, and access to valuable guides, there are several caveats that one must consider before choosing to engage with their services.
First and foremost, the team's diversity in terms of experience is a double-edged sword. Having former admissions officers can be an asset, but the presence of recent graduates with limited experience might not always be beneficial for students seeking in-depth advice and insights. The freshness of the recent graduates might not compensate for the seasoned expertise that some students might be looking for.
Moreover, students and parents must be well-informed and cautious. It's important to ask yourself whether the services offered align with your specific needs and whether the expertise level of the counselors meets your expectations.
Another area for improvement is the number of relatively low-rated reviews and negative comments that can be found on Reddit and other platforms. Most of them refer to the same issues I have highlighted in Grey Areas.
Given these considerations, I would say that it might be wise to proceed with caution when it comes to CollegeAdvisor.com. While they do have some interesting offerings, the potential limitations in terms of the experience of some of their team members may be a cause for concern.
For such an important and life-defining process as college admissions, it is crucial to ensure that you receive guidance from sources like Admissionado or BeMo that are knowledgeable and have a proven track record of experience and success. Therefore, it may be worthwhile exploring additional options or seeking recommendations from trusted sources before making a final decision.
As always, the choice is yours 😉
FAQ
How much does CollegeAdvisor.com cost?
CollegeAdvisor.com has different packages with varying costs. The Premium Package is $1,000, and it includes 10 hours of 1-on-1 video chat, essay editing for 2 applications, and unlimited webinars. The prices for the Elite and Platinum Packages are not specified but are higher than the Premium Package. The Ivy Plus Package is the most extensive and is priced at $9,000.
Is CollegeAdvisor.com legit?
Based on various customer reviews and feedback, there are concerns regarding the legitimacy of CollegeAdvisor.com. Several clients have raised issues about the inexperience of the counselors and the lack of value for the money invested in the services. Additionally, some have questioned the quality of advice provided. Therefore, I would advise exercising caution and conducting thorough research before engaging with CollegeAdvisor.com. It's important to consider alternative options like Admissionado and carefully weigh the pros and cons to make an informed decision.